INFORMATION ON PURCHASING THE LIMITED EDITION
FRAMED LOTTERY TICKETS COLLECTION!
CLICK HERE: SHOP FRAMED COLLECTION OF TICKETS PLUS 100 VOID TICKETS BONUS
OR
CLICK HERE: SHOP FRAMED COLLECTION OF TICKETS WITH GUARANTEE
-----------------------------------------------------
THE FIRST 8 LOTTERY TICKETS ISSUED BY THE STATE OF TEXAS IN 1992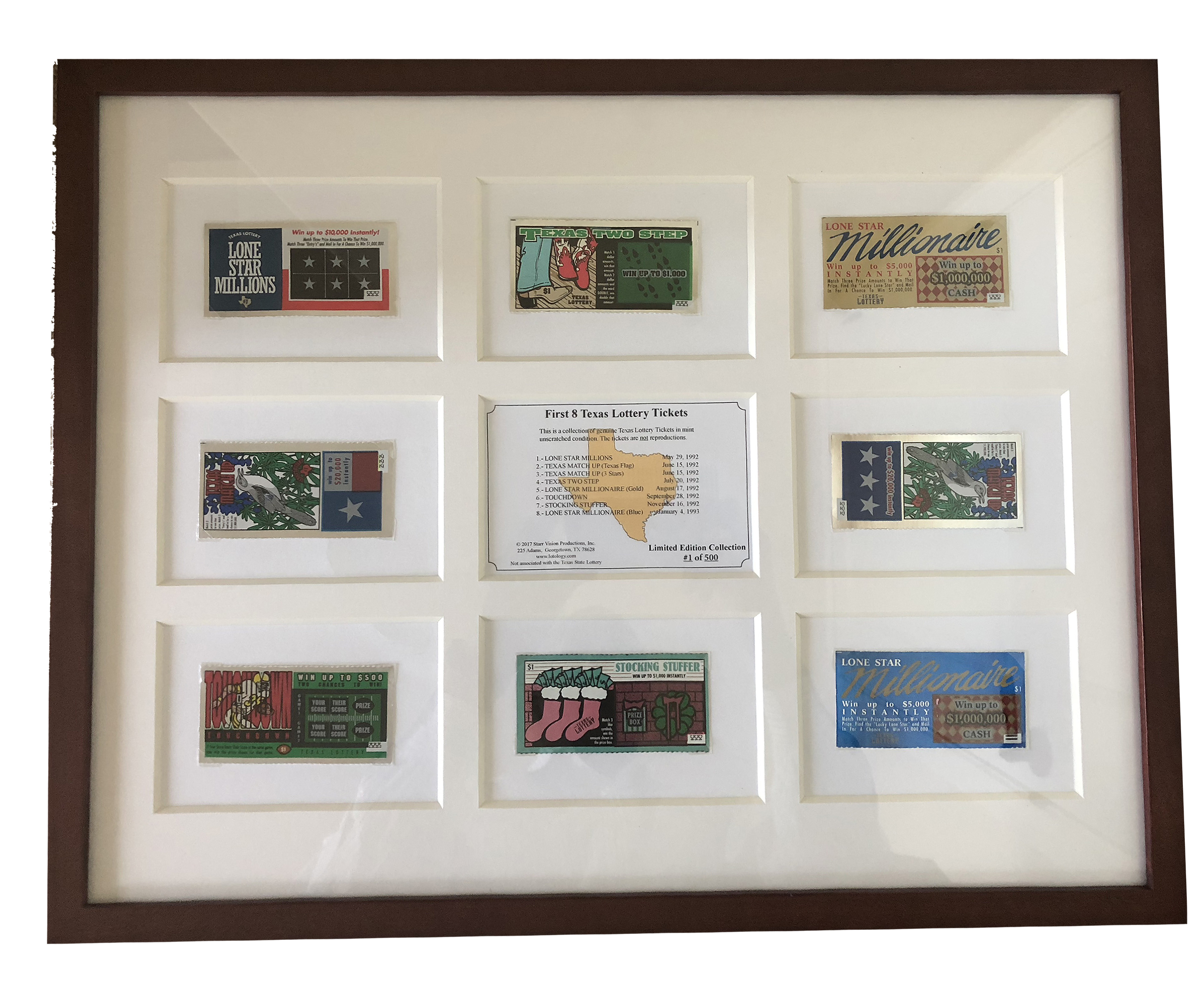 This collection contains the first 8 lottery tickets issued in Texas INCLUDING the first scratch game lottery ticket issued by the State of Texas on May 29, 1992. These RARE lottery tickets are in mint unscratched condition. A mint unscratched lottery ticket is a real lottery ticket that has not been scratched and is therefore in "mint" condition. Tickets sold on this site have expired and cannot be scratched and you cannot claim any winning that may be on the ticket. They are collectibles.
This collection is limited to 500 Framed Mint Ticket Collections.
THIS COLLECTION CONTAINS THE FIRST 8 LOTTERY TICKETS ISSUED BY THE STATE OF TEXAS IN 1992 IN MINT UNSCRATCHED CONDITION. THESE RARE 8 TICKETS ARE HARD TO FIND IN UNSCRATCHED MINT CONDITION. REMEMBER, LOTTERY TICKETS ARE PURCHASED TO SCRATCH AND WIN MONEY. WHEN THESE LOTTERY TICKETS WERE WITHDRAWN FROM SALE IN 1993, THE STATE OF TEXAS RECALLED, EXPIRED, AND DESTROYED ALL THE WITHDRAWN LOTTERY TICKETS REMAINING. THEREFORE, IT IS RARE TO FIND MINT UNSCRATCHED LOTTERY TICKETS - AND EVEN RARER TO FIND A COLLECTION OF THE FIRST 8 TICKETS RELEASED BY THE STATE OF TEXAS!
The framed lottery ticket collectible number pictured is representative and the collectible framed number you receive will be random.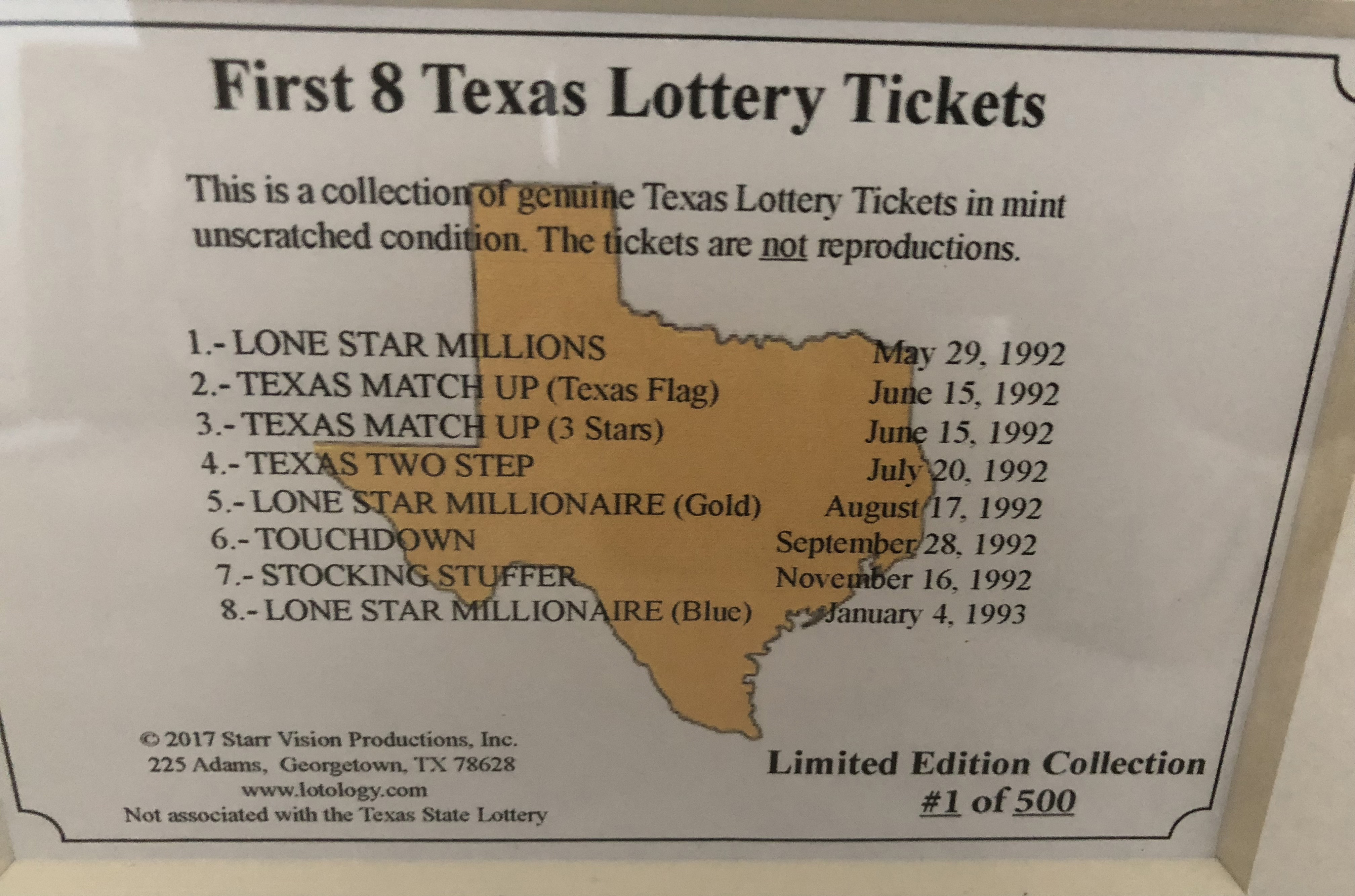 8 LOTTERY TICKETS
1.- LONE STAR MILLIONS - May 29, 1992
2.- TEXAS MATCH UP (Texas Flag) - June 15, 1992
3.- TEXAS MATCH UP (3 Stars) - June 15, 1992
4.- TEXAS TWO STEP - July 20, 1992
5.- LONE STAR MILLIONAIRE (Gold) - August 17, 1992
6.- TOUCHDOWN - September 28, 1992
7.- STOCKING STUFFER - November 16, 1992
8.- LONE STAR MILLIONAIRE (Blue) - January 4, 1993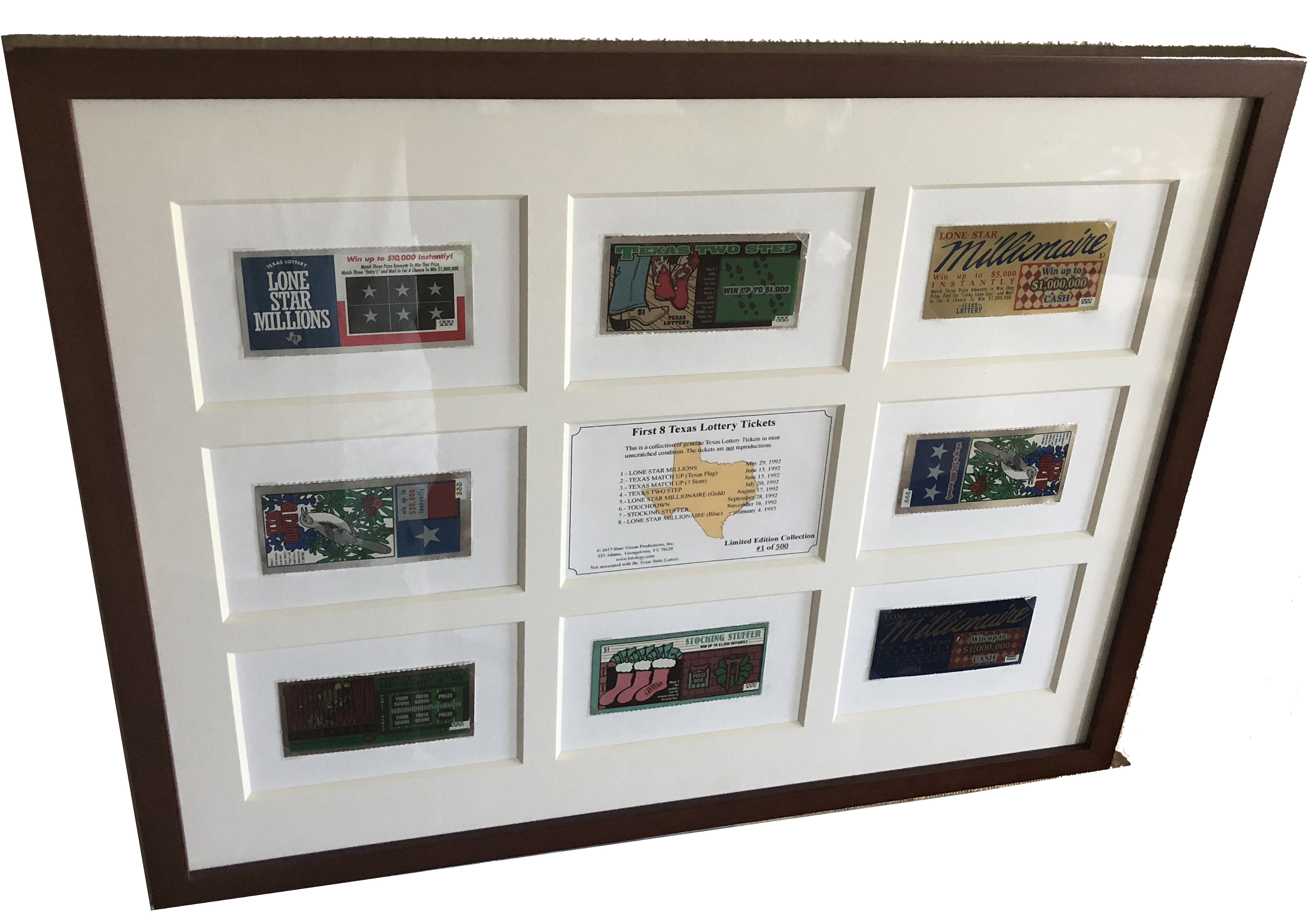 SPECIAL BONUS OF 100 SAMPLE VOID LOTTERY TICKETS
WITH YOUR ORDER WHILE SUPPLY LASTS!!!
TEXAS UNSCRATCHED SAMPLE VOID LOTTERY TICKETS
A sample/void ticket is an unused ticket that is voided and cannot be redeemed for the scratch off winning. These lottery tickets are NOT the "Fake Lottery Tickets" where all the scratch off tickets are winners. These tickets are used by the lottery for promotional purposes. The tickets are identical to the actual game tickets that are released to retail except they have "VOID" on the back of the ticket. The ticket may also have "void" in the ticket number on the front of the ticket. Almost all tickets are in unscratched mint condition ready for you to scratch or add to your lottery ticket collection. These void lottery tickets may NOT have winners under the scratch off area! All may have losing reveals.
The lottery tickets pictured are representative, and the tickets sent are random and may not be the tickets pictured.
Suggestions of promotional and fun uses of sample/void unscratched tickets:
Save as collectible
Bachelor or Bachelorette party activity.
Gifts to friends. Give a friend tickets to scratch for a fun time.
Birthday parties
A rainy day activity of scratching tickets
-----------------------------------------------------
CLICK HERE: SHOP FRAMED COLLECTION OF TICKETS PLUS 100 VOID TICKETS BONUS
OR
CLICK HERE: SHOP FRAMED COLLECTION OF TICKETS WITH GUARANTEE
copyright 2017 Starr Vision Productions, Inc.
225 Adams, Georgetown, TX 78628
www.lotology.com
ScratchOffMoney@gmail.com
Not associated with the Texas State Lottery